Zombies have come a long way. From movies from George A. Romero to shows like the Walking Dead. Some shows have inspired new ideas of entertainement. One idea is video games.
Past and Facts
Edit
The first zombie videogames came out in 1984.
Zombie Zombie for the ZX Spectrum
The Evil Dead for Commodore 64 and the ZX Spectrum.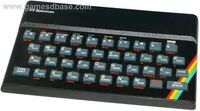 Ad blocker interference detected!
Wikia is a free-to-use site that makes money from advertising. We have a modified experience for viewers using ad blockers

Wikia is not accessible if you've made further modifications. Remove the custom ad blocker rule(s) and the page will load as expected.