My name is Bountyhunterr7714, I am the founder and admin of this wiki. You are welcome to add anything you like (needs to be appropriate) and talk to anybody, or even just look. This wiki is meant for the zombie lovers. Even if you're not a zombie lover, you're still welcome.

We'll keep you safe from all the zombies and teach you all about them while having fun and learning about them.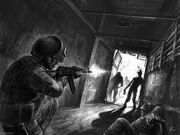 Ad blocker interference detected!
Wikia is a free-to-use site that makes money from advertising. We have a modified experience for viewers using ad blockers

Wikia is not accessible if you've made further modifications. Remove the custom ad blocker rule(s) and the page will load as expected.